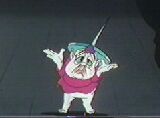 Melvin "Tubby" Millar
Portis Kansas' favorite son

Melvin Millar was a story writer for Warner Bros from approximately 1937-1945. Millar was born in Portis Kansas in 1900. He was actually born a "Miller" - he changed his name when he went west. Melvin graduated from Portis High School in 1918 and after going to the Kansas City Art School he went out to Hollywood.
Millar's cartoons at WB often starred Porky Pig. He began to slip little references to his hometown into the cartoons by hiding it's name in the background or even using it for a character name. Among these were Bingo Crosbyana (Freleng, 1936), Porky's Pet (King, 1936) , Porky of the North Woods (Tashlin, 1936) , Porky's Road Race (Tash, 1937) , "Sniffles and the Bookworm" and "The Case of the Stuttering Pig".
The town of Portis was proud enough of him to create a memorial.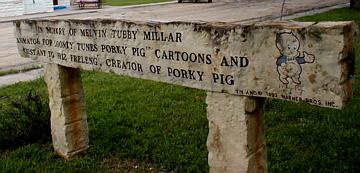 The Millar Memorial has the following written on it:
In memory of Melvin Tubby Millar, animator for Looney Tunes Porky Pig cartoons and assistant to Friz Freleng, creator of Porky Pig.
In Russian Rhapsody (Clampett, 1944) the Gremlin with a tack-shaped head attempting to poke Hitler is a caricature of Millar. Another reference to him is one of the pigeon names on a blackboard in Plane Daffy (Tashlin, 1944) - "Tubby Pigeon".
---