The Millar Memorial
Portis, Kansas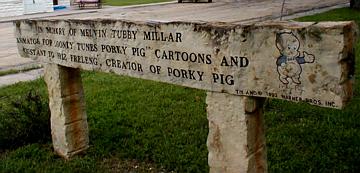 The town of Portis, Kansas erected this memorial to one of it's most famous sons, Melvin "Tubby" Millar. Here's a photo of the memorial which was taken by a true "cartoon lover". ;)
The Millar Memorial has the following written on it:
In memory of Melvin Tubby Millar, animator for Looney Tunes Porky Pig cartoons and assistant to Friz Freleng, creator of Porky Pig.
Millar worked the name of his hometown into several cartoons - hiding it in the background or even using it for a character name. Among these were Bingo Crosbyana (Freleng, 1936), Porky's Pet (King, 1936) , Porky of the North Woods (Tashlin, 1936) , Porky's Road Race (Tash, 1937) , "Sniffles and the Bookworm" and "The Case of the Stuttering Pig".
---